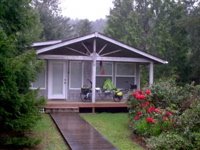 LEAVING CANNON BEACH
The fog is rolling in from the ocean as we sort and pack. Tossing old lettuce and bits from the refrigerator. Putting something in the freezer to take out and thaw upon our next arrival. Grandkids and their parents came to visit. Sandcastles were built and destroyed. Waves were jumped and buckets filled as the tide came in and went out. The Pacific Ocean on the Oregon Coast freezes your feet and makes your legs ache if you stay in for more than a few minutes. When we were children we called it "refreshing" - now we call it "frrrreeeeeeeezzzzing." Wet suits have allowed the more adventurous to surf and kayak but mostly it is a sandcastle building, seashell collecting, and strolling beach.
Yesterday (Sunday of Labor Day weekend) we gathered the clan to baptize a great nephew in the ocean. His cousins had been "done" a few years ago, I performed the parents' wedding by the falls and lake up the Columbia Gorge and now we came together again to affirm our support for this child, to recognize that he is born blessed, and to help him to grow into the fullness of that blessing. He did not think much of the whole project - nothing quite like being dipped in the Pacific Ocean to wake a boy up from his cozy nap in his daddy's arms. Even if he forgets we will remember.
So now it is goodbye to our little house and off for the golden aspens of Wyoming.